The work is carried out from the company's headquarters in Ferrol
The F-110 represents a technological challenge with a new concept of multipurpose ship
Seville, 28 December 2020. GHENOVA, the largest private naval engineering company in Spain is participating in the ambitious project launched by the Ministry of Defence through the General Directorate of Armaments and Material (DGAM), the new F-110 frigate will be built by Navantia.
GHENOVA is participating in the functional design of the F-110 from the company's headquarters in Ferrol through a team specialised in this type of highly complex technological project.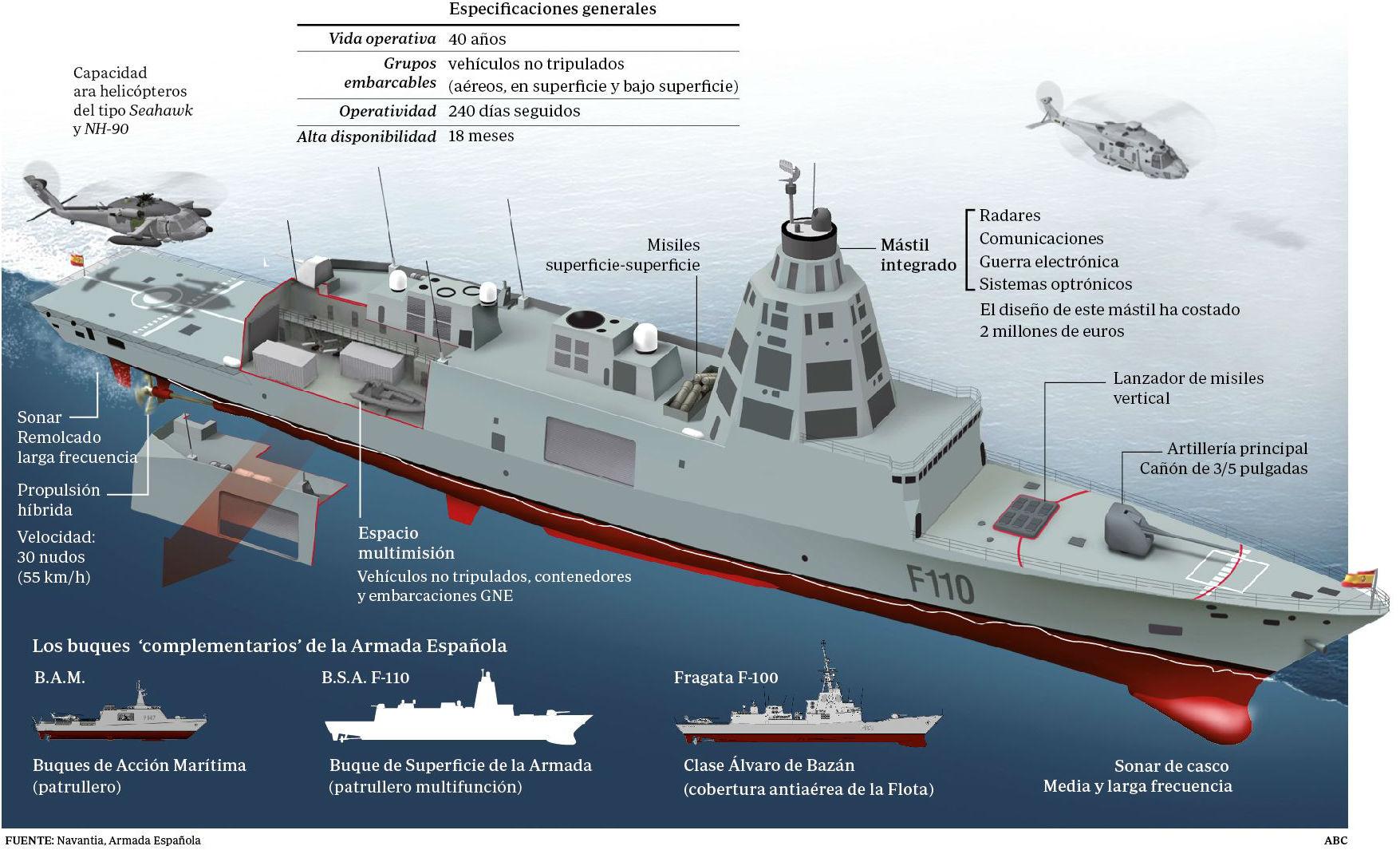 The company has been collaborating for almost 20 years in Navantia Ferrol where it has an office of approximately 100 people. In these years it has participated in the projects of the frigates for Norway, the F105 and LHD for the Navy, the AWD and ALHD for the Australian Navy and the last TLHD for the Turkish Navy. From its offices in Seville and El Puerto de Santa María, it has participated in the Corvettes project for Saudi Arabia. These collaborations have meant the creation of a large number of jobs during this period both in the Ferrol area and in the Bay of Cadiz, where GHENOVA did not have offices until then.
The F-110 represents a real technological challenge led by Navantia with a new concept of multipurpose ship that has among many novelties an integrated mast. The Navy will incorporate these new frigates, which will replace those of the Santa María class that have been in service for almost 40 years. These new ships will be equipped with the advanced version of the SCOMBA programme, characteristic of the Navy's ships since 2010.
In addition, it will have a 160 square metre multi-mission space with different configurations and integration on board unmanned vehicles and in the future, directed energy weapons. At the same time, the real ship will have a digital twin that will provide 4.0 logistical support.
In this sense, from GHENOVA "we are very proud to participate in a project of these dimensions to cover the needs of one of the most modern navies in the world, thus contributing to strengthen the competitiveness of Spanish vessels in the market".
About GHENOVA
Our company participates in highly complex technological projects for some of the world's largest firms in the naval and offshore sectors (oil & gas and renewables), industry and energy, infrastructures, defence and ICT, positioning itself as a reference engineering company in Spain, Europe and Latin America.